Sarnia, ON The Sarnia-Lambton community won both on the ice and in the community Sunday afternoon> The Sarnia Sting knocked off the London Knights 10-4 and $15,000 was donated to the Community Dressing Room Project.

With the support of the volunteers of Friends of Sarnia Minor Hockey, the Sarnia Sting were proud to launch Sting Assists and the inaugural 50/50 raffle at Sunday afternoons Sting matinee.
As per the Sting Assists mission, our goal is to invest back into our community making it a better place to work and play for all.

In partnership with the Sarnia Sting, Sting Assists has identified the need for additional gender specific and non-gender specific community dressing rooms within the Progressive Auto Sales Arena, home of the Sarnia Sting, Sarnia Jr. Sting, Sarnia Lady Jr. Sting, Lambton AAA and a number of men and women recreational teams. All proceeds from Sunday's inaugural 50/50 raffle will be directed towards the costs associated with construction required for this project.
The Plan- As the Hockey Club is in the process of moving the Sting (OHL) dressing room from its current location, the organization sees this as an opportunity to find a solution to the current community dressing room shortage
By transforming this space into additional men's, women's' and non-gender specific dressing rooms that service both rink 1 & 2. This demand can be met to adequately fulfill the facility's needs and provide a safe and comfortable changing space for all.
During the 1st intermission on behalf of all the volunteers of Friends of Sarnia Minor Hockey, President Fred Sterling and Treasurer Lynn Le Faive we're extremely proud to present Sting President Bill Abercrombe a cheque for $10,000 towards this project. These funds are in addition to the 50/50 jackpot generated from the Sunday's game.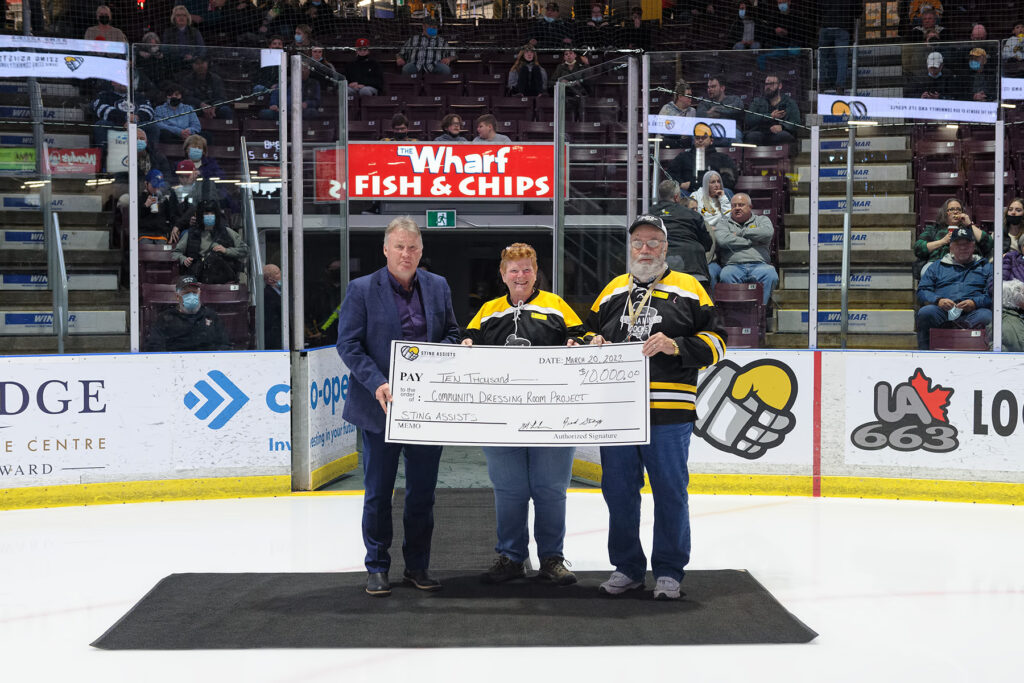 Thanks to the generous support of Sting fans and some select Knights fans in attendance. Sunday's 50/50 jackpot totaled $6,722. Sting season ticket holder Kenneth King was the lucky winner while, Sting Assists was able to donate $5,000 from the Jackpot total, less expenses.