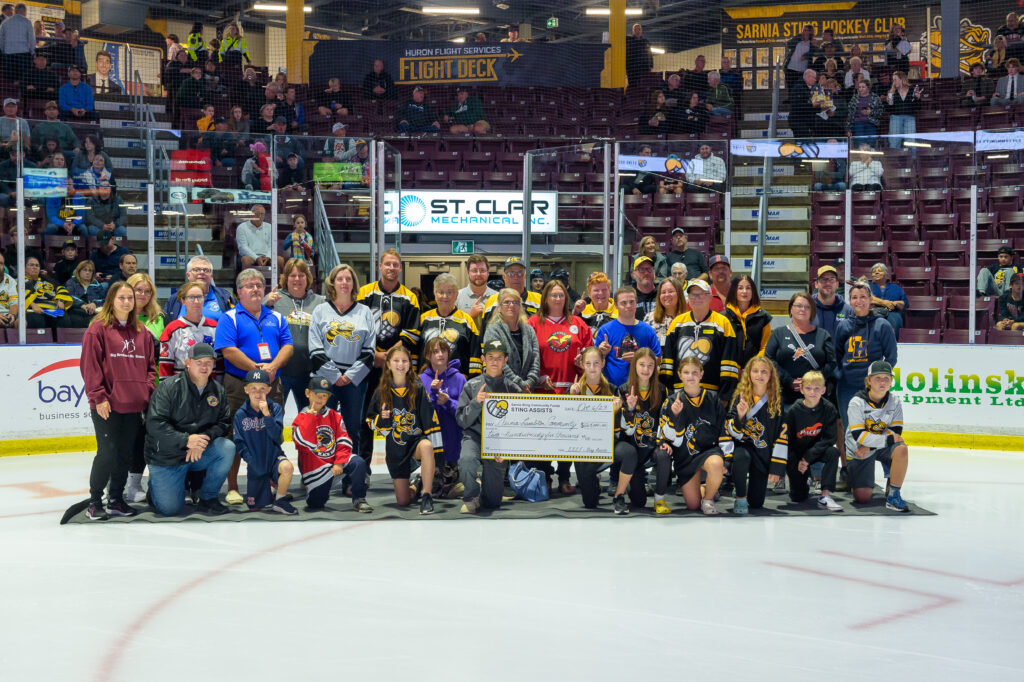 Friday, October 6th, 2023 – Progressive Auto Sales Arena
Sting Assists initiatives support youth amateur sport, scholarship programs and local not-for-profit organizations.

Last Friday night, we were proud to showcase not only our initiatives and incredible volunteers but also our record-breaking 2022-2023 campaign.

After raising $265,500 through our 50/50 raffles, jersey draws and community fundraisers, we were proud to showcase, on-ice, the different organizations and programs that received either grant or gift donations:

1. Lambton Jr. Sting AAA
2. Sarnia Minor Hockey
3. Sarnia Jr. Lady Sting
4. Brigade Baseball Junior Teams
5. East Lambton Minor Hockey
6. St. Clair Child & Youth
7. Boys & Girls Club Sarnia
8. St. Vincent De Paul Society
9. Literacy Lambton
10. The Inn of the Good Shepherd
11. Lambton Shores Minor Hockey
12. North Lambton Secondary School Wrestling
13. Big Brothers Big Sisters of Sarnia-Lambton
14. Sarnia Minor Athletic Association
15. Mooretown Minor Hockey
16. Sarnia Ice Hawks Sledge Hockey
17. Noelle's Gift
18. Special Olympics Sarnia
19. Mooretown Lady Flags
20. London Road Public School Playground
21. Pathways Health Centre for Children
22. Point Edward Minor Athletic Association
23. Sarnia Minor Lacrosse
24. Petrolia Minor Hockey
25. Sarnia-Lambton Rebound
26. Petrolia Food Bank
27. Oil Springs Food Bank
28. Watford Food Bank
29. Alvingston Food Bank
30. Forest Food Bank
31. Salvation Army Food Bank

On behalf of Sting Assists and the entire Sarnia Sting Hockey Club, we would like to thank everyone who allowed us to set record-breaking 50/50 sales during the 2022-2023 campaign. It was a memorable season on and off the ice for Sting Assists and the Sarnia Sting Hockey Club.

Without your support, the contributions to the Sarnia-Lambton community would simply not be possible.

Thank you Sting Nation!